Posted by Jussi Huotari in : startup,travel,web2 , trackback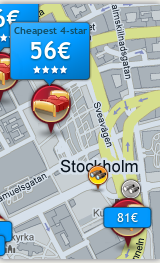 Google Maps and hotel data fit together extremely well. Seeing the hotels on a city map along with the most interesting sights (and airports etc.) makes choosing the most suitable accommodation a breeze. Instead of scrolling through long lists of hotels ordered by popularity or profitability, you can pick the hotel next to your favorite sight. Cool, huh?
I'm talking about TripSay's hotel booking tool. We built a tool that:
Locates hotels on a map.
Shows distances to the selected sights as well as to the airports and city centre.
Shows hotel ratings, photos and facilities.
Compares hotels based on their price and customer rating.
Allows you to filter based on e.g. price, stars, location, and facilities.
etc…
The combination of a map and hotel data is powerful. For example: on a business trip it's great to set the map center to the address you're going to visit and then say "show me all hotels with Wi-Fi that are at most 1 km away". Or on a skiing trip to the Alps it's good to check the ski lift locations and choose among the hotels that are a walking distance away from the lifts.
The hotel booking tool can be localized and co-branded. The first partnership is up-and-running on HS.fi Matka (in finnish). It looks like this: http://hotellihaku.hs.fi/hotellit/suomi/helsinki. The original english version is here: http://www.tripsay.com/hotels/helsinki.
An old saying states that hotel business is all about location, location, location. So why not use a map to book hotels?