How to go to new markets with a startup product and minimal marketing budget? Here are a few notes based on what I found on the web.
What is your market type? Steve Blank writes well about market type as a part of his Customer Development Manifesto. Does your product enable people to do something they couldn't do before? Or is your product a faster, better or cheaper way to do something people are already doing? Marketing tactics for one type of market fail in others.
Market type is a choice you need to make. I thought of it like this: mobile phones were an existing market in 2007 when Apple released iPhone. But instead of competing on who had the fastest processor, biggest memory and most megapixels they created a new, apps-focused market. It proved to be a good choice.
New market is the typical type for any online startup. But it's a difficult market type. Matthew Mamet puts it well
Creating a category, placing your product in that category, generating demand where there is no existing demand . . . all while building a product that will (hopefully) satisfy the demand. All with the Investors, and Board, and competitors breathing down the back your necks. Not easy stuff.
What if you already have a product? That is, you already cover one market (one country) and want to expand to other country? This still happens. ;) The Internet is not a single marketplace where you succeed by offering a product only in english and without localizations. Michael Moore-Jones points out that the Lean Startup methods may not be the right path to take: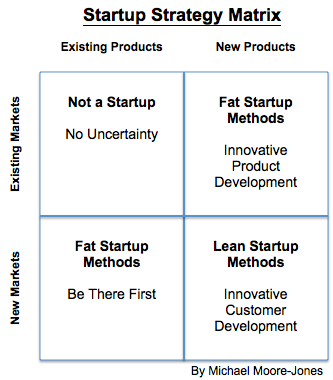 The point is that if you're not venture capital backed, you'd better be in lower right corner of the matrix. Otherwise you'll miss the opportunity and the incumbents will win. Michael writes:
… a local Groupon clone that I saw here in Wellington began using lean startup methods, even though they were entering a new market with an existing product. They didn't need to learn a thing about their market – they just needed to get to the market first. Nevertheless, they spent frugally and spent a lot of time testing aspects of the website. Missed opportunity and an epic failure – stupid.