Posted by Jussi Huotari in : business,startup , add a comment
How many Finnish online products are targeting European markets? More specifically, consumer oriented online products?
If I'm not wrong, there are very few. Overall, the number and scale of B2C product businesses in Finland is much less than in the neighboring countries. Among these few are some that are "born global". As a rule, their target market is the USA, not any of the European markets.
I've been trying to find successful Finnish B2C online products whose target market is Germany, Spain, France, or Russia. There are many good reasons to target the EU markets, in addition to the 370+ million people online. The Western European countries are big, there's much less competition than in the USA, the culture is similar to Finland's, and the time difference is manageable.
East is even more interesting. Russia is the biggest European market in terms of unique users, the growth rate is rather healthy (~9% per year), and it's just across the border for us.

I can name a number of Swedish B2C online product businesses that are expanding to the European markets. But in Finland, there are only five??
Holvi is the first to come to mind. Their product is super interesting and I think they are going to take advantage of the new EU-wide banking regulation in their mission to make banking better for us.
Web of Trust has exciting partnership in Russia with Mail.ru. Russia is already a big market for them and visibility through Mail.ru and others sound good.
Ostohyvitys.fi is focused on domestic audience but they have at least a russian version as well. Let's see what comes out of that.
Scoopshot is in English on the web, but their mobile app is translated to e.g. Swedish and Russian. In Sweden they have strong(?) co-operation with Metro: Scoopshot.se.
And of course, our Nimenhuuto has Mojakomanda.ru, Kadermanager.de, and Yaentrainement.fr.
Can you suggest additions to the list?
Maybe Finland just is a B2B country. There are many interesting B2B online products that look to break in Europe, such as Enreach, Cabforce, Muuvit, Analyse2, Happy-or-not, …
Posted by Jussi Huotari in : startup , add a comment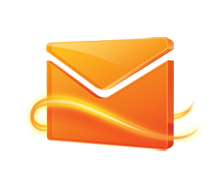 Number 1 tip on how to get your emails delivered to inbox: don't allow the recipients to have Hotmail accounts!
I'm helping out a service that sends out quite a lot of emails. In this case the list size is +150k double opt-in subscribers. Since Feb 2012 we've been getting questions from Hotmail users wondering why they are not receiving our emails anymore. It turns out that Hotmail is silently dropping much more emails than any other big email provider.
Many times the easiest & quickest fix is to ask the recipient to add our sender in their addressbook and mark the sender as "trusted". But in some cases even this didn't work. We dug deeper and realized that these people – who are asking us about the undelivered emails – have accidentally marked us as junk mail sender. Ok, accidents happen. But what about these stats: 99% of all our spam reports come from Hotmail users. And guess what? The remaining 1% comes from Windows Live and MSN accounts.
While there are not that many spam reports, to me this seems like a serious usability problem in Hotmail. Hotmail users are not receiving the emails they want. In addition, our reputation as a sender takes a tiny hit every time someone claims our email as spam, accident or not. #Fail.
The irony is that Hotmail is boasting about their success in preventing spam. Seems like the fine folks at Hotmail have worked so hard to be the #1 in spam filtering that they are throwing away loads of valid emails. While journalists are excited, the users are not so happy.
Hotmail says: "Complaints related to spam, including phishing, junk and malware, have dropped by over 40% over the past year." The flipside in our case is that the complaints related to undelivered email to Hotmail users have increased by over 400%.
Dear Hotmail, you may be preventing spam efficiently but looks like your users are not enjoying the ride anymore.
Posted by Jussi Huotari in : business,startup,web2 , add a comment
I've become a fan of cohort analysis! Cohorts provide a great way to focus on product development and the effect our RnD is having on customers. Cohort analysis tells us if we're making the product better or just adding clutter and obsolete features.
Often it would be the best to "simply" focus on the existing features and make them even better. And as often, in my experience, we tend to consider the existing features done and want to make new exciting stuff that the customers are bound to adore and enjoy.
Eric Ries puts this well in the context of web startups on Techcrunch:
Most product teams don't know if they are making their product better or worse; that's why customers feel a twinge of fear every time they have to update or upgrade. Despite this, those same companies may be having extremely fast growth because even though the product is getting worse, other things are going right: network effects are kicking in, the company is being lauded in the press, or they are surfing on a general wave of growth in their industry.
So instead measuring just the averages, we want to utilize cohort analysis. A "cohort" may be the set of people who signed up during a specific month. For example: Do the people who signed up this month convert to buyers at a higher rate than those who signed up last month? If the conversion rate remains the same, we just wasted a month of RnD effort!
How is this different from measuring the overall conversion rate?
The difference is that using cohorts, you will know which feature or addition got your audience's attention. This is like utilizing A/B testing in product development. And you will be able to track customer life-cycle events. Ash Maurya writes about this in his post 3 Rules to Actionable Metrics in a Lean Startup. By checking the cohort analysis table you can see if the customer retention is going the right direction. Here's an example table by Ash: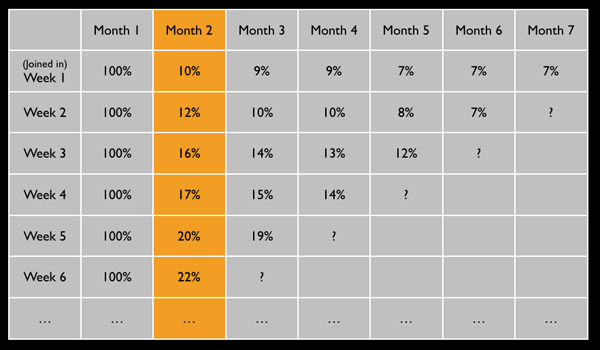 I can't wait to find out our numbers. Lot's of SQL:ing to do…
Posted by Jussi Huotari in : business,startup,travel , 1 comment so far

Stephen Joyce wrote a great post on how Groupon advertising works. He offers insight into Groupon's impact on sales and profitability from a local small business's perspective. The bottom line is: you're gonna lose!
Groupon is the 2-year-old group buying service that has received a great amount of attention (and a billion $ in venture capital) because of its huge growth. Groupon partners with local businesses, agrees on a heavy discount on the local business's service, and sends a daily coupon by email to the local members.
It is geographically targeted risk-free advertising: the local business pays only if a certain amount of the discount coupons are bought, i.e. there are interested customers. There's no upfront cost.
The customer pays Groupon for the coupon and Groupon splits the revenue with the local business. Let's say there's a 50% discount: a €100 product would be sold for €50 of which the local business gets half, i.e. €25. Now, a 75% discount sounds like a no-go even with healthy profit margins, don't you think?
Groupon has inspired hundreds of clones. In Finland the most prominent is CityDeal that is currently running an overwhelming advertising campaign on Adsense and other ad networks. Today, for example, CityDeal.fi is offering a Spa treatment in Helsinki at a 53% discount. Groupon bought CityDeal last May and will rebrand it and maybe then we'll have Groupon.fi…
Another interesting clone in these parts of the world is the Estonian Cherry.ee. They made a deal with Estonian Air to sell travel vouchers at a 40% discount last December. Their coupons were sold at such a pace that Estonian Air had to stop the deal! The travel voucher's face value was 1000EEK and they sold 6500 of them at 600EEK. If Estonian Air gets 50% of the proceeds, that adds up to 50% x 600EEK x 6500 = 1.950.000EEK, i.e. 4.550.000EEK less revenue than at the retail price. Four and a half a million EEK is about €290.000… Quite a marketing stunt for a small airline.
Posted by Jussi Huotari in : startup,travel,web2 , add a comment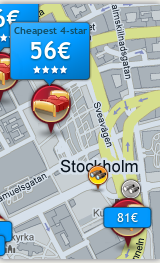 Google Maps and hotel data fit together extremely well. Seeing the hotels on a city map along with the most interesting sights (and airports etc.) makes choosing the most suitable accommodation a breeze. Instead of scrolling through long lists of hotels ordered by popularity or profitability, you can pick the hotel next to your favorite sight. Cool, huh?
I'm talking about TripSay's hotel booking tool. We built a tool that:
Locates hotels on a map.
Shows distances to the selected sights as well as to the airports and city centre.
Shows hotel ratings, photos and facilities.
Compares hotels based on their price and customer rating.
Allows you to filter based on e.g. price, stars, location, and facilities.
etc…
The combination of a map and hotel data is powerful. For example: on a business trip it's great to set the map center to the address you're going to visit and then say "show me all hotels with Wi-Fi that are at most 1 km away". Or on a skiing trip to the Alps it's good to check the ski lift locations and choose among the hotels that are a walking distance away from the lifts.
The hotel booking tool can be localized and co-branded. The first partnership is up-and-running on HS.fi Matka (in finnish). It looks like this: http://hotellihaku.hs.fi/hotellit/suomi/helsinki. The original english version is here: http://www.tripsay.com/hotels/helsinki.
An old saying states that hotel business is all about location, location, location. So why not use a map to book hotels?
Posted by Jussi Huotari in : business,startup,web2 , add a comment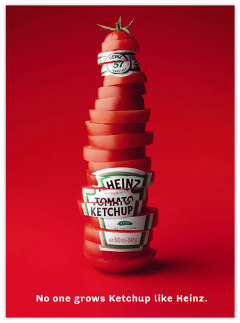 Not long ago all you had to do to protect your brand online was to acquire the domain name. Just getting the .com domain was good. If you wanted to be on the safe side, you acquired also .net and .org etc.
A bit longer ago some people paid millions of dollars to purchase the domain name they wanted. Incomprehensible. But supposedly Nokia had to stack up quite a bit of dollars to get Ovi.com.
But that's history, what's up now?
Brand names in social media.
Acquiring the relevant domain names isn't enough any more. You may want to secure the relevant social media channels, groups and fan pages as well. Here's an interesting article by Michael Werch about how he hijacked Heinz's brand on Twitter.
And so, on Dec. 1, 2009, I took it upon myself to create and brand a Twitter page under the username @HJ_Heinz. I posted Heinz ketchup bottles in the profile background, a link to the company's corporate website, and a brief bio: "News, recipe ideas & fun facts for all things Heinz."
The comments are also worth reading. I found it especially thought-provoking that the commenters consider hiring a person for tweeting a "nominal investment". Or that you're a dinosaur if you don't see how a Twitter account with a few hundreds of followers will help Heinz in engaging their customers in a way that will show on the bottom line.
I hope this doesn't lead into situation that we've seen with domain names. For example: some "entrepreneurial" characters in China had acquired our domain with a .cn suffix and wanted to discuss selling it with a good price. Will the next mail be about selling me a Twitter or Google Buzz account for our brand?
Posted by Jussi Huotari in : startup , add a comment

Regards from the sunny Barcelona! The European early stage investment forum (Easy) was organized in Barcelona this time and I was here representing TripSay. The forum aims at matching startups with business angels around the Europe to create cross-border investment opportunities. Sounds complicated, huh? In reality the event worked quite well. The organizers had invited a number of investors (mainly angels) and selected 17 companies who were given an 8 minute slot to give their pitch on the stage. Good stuff!
There was also an excellent keynote speaker. Nelson Gray shared his experiences as a business angel in a very unusual way: he used concrete examples of companies and real numbers! It was very refreshing to listen. For example, his first investment had gone bad and he draw some guidelines from the experience. In retrospect he could say that the entrepreneur was not good, the business model was poor and there were no barriers to entry for the competitors. Then why did he invest? He gave an answer and said that he learnt from the mistake. And that afterwards he hasn't done the same mistake again. Instead he has done 11 other mistakes.

Well, he can afford to do mistakes as there are more successes than mistakes in his portfolio. If you have a chance, Nelson's presentation is worth seeing.
Posted by Jussi Huotari in : startup,web2 , add a comment
As you probably know, we changed the name of our online travel service from Vailoma to TripSay. The rationale behind the name change was to get a name that's easier to remember and that gets associated with travel also by people who don't speak fluent finnish.

Anyway, it seems that an other travel start-up changed their name at almost the same day. This coincidence is clearly a sign of an emerging pattern in start-up space. As Tim Hughes of The BOOT puts it:
A new start up pattern is emerging overnight in the content space. First you form a team, then you get a little funding, put out a beta site and generate some buzz. Then, naturally, you change your name. Within days of each other we had news that community and guide content player Vailoma is now called TripSay (announcement) and content/review aggregaor Kango is now called UpTake (announcement).
Yes, naturally.

Have to agree with Tim's analysis. As I wrote in the comments, I wonder if we'll get more followers to this pattern…