Posted by Jussi Huotari in : business,startup , add a comment
How many Finnish online products are targeting European markets? More specifically, consumer oriented online products?
If I'm not wrong, there are very few. Overall, the number and scale of B2C product businesses in Finland is much less than in the neighboring countries. Among these few are some that are "born global". As a rule, their target market is the USA, not any of the European markets.
I've been trying to find successful Finnish B2C online products whose target market is Germany, Spain, France, or Russia. There are many good reasons to target the EU markets, in addition to the 370+ million people online. The Western European countries are big, there's much less competition than in the USA, the culture is similar to Finland's, and the time difference is manageable.
East is even more interesting. Russia is the biggest European market in terms of unique users, the growth rate is rather healthy (~9% per year), and it's just across the border for us.

I can name a number of Swedish B2C online product businesses that are expanding to the European markets. But in Finland, there are only five??
Holvi is the first to come to mind. Their product is super interesting and I think they are going to take advantage of the new EU-wide banking regulation in their mission to make banking better for us.
Web of Trust has exciting partnership in Russia with Mail.ru. Russia is already a big market for them and visibility through Mail.ru and others sound good.
Ostohyvitys.fi is focused on domestic audience but they have at least a russian version as well. Let's see what comes out of that.
Scoopshot is in English on the web, but their mobile app is translated to e.g. Swedish and Russian. In Sweden they have strong(?) co-operation with Metro: Scoopshot.se.
And of course, our Nimenhuuto has Mojakomanda.ru, Kadermanager.de, and Yaentrainement.fr.
Can you suggest additions to the list?
Maybe Finland just is a B2B country. There are many interesting B2B online products that look to break in Europe, such as Enreach, Cabforce, Muuvit, Analyse2, Happy-or-not, …
Posted by Jussi Huotari in : business,web2 , add a comment
The most underrated feature affecting user experience is speed. Fast page load must be a priority, along with great concept design.
We've all heard the classic case: Amazon generated 1% more sales for every 100ms they shaved off the page load time (the original slide deck by Greg Linden). That was almost a decade ago, but users' preference for speed has only increased. NY Times:
People will visit a Web site less often if it is slower than a close competitor by more than 250ms.
A typical modern web page loading html, css and javascript takes roughly 4-8 seconds to fully load. Thus, we are talking about making the page 3-5% faster. While 250 milliseconds sounds very little to me, 5% sounds much more significant.
Walmart utilized Real User Monitoring (RUM) analysis to their site and found out that there's a strong correlation with:
High conversion rates and fast pages

High bounce rate and slow pages
Their conclusion seems to verify the 100ms less = 1% more rule.
Making a site fast is not trivial. It's a science in itself and requires a lot of effort. In addition to the technical challenges there's the psychological side. Perceived speed is more important than actual speed.
Too often the 250ms is not considered important by concept designers and start-ups building web-based businesses. It should be top prio. Fast page loads mean business!
There are plenty of tools for figuring out how to improve your page speed. For example, this one by Google is very good (especially so because it shows that we've done the right things at Nimenhuuto.com): https://developers.google.com/speed/pagespeed/insights
Posted by Jussi Huotari in : business , add a comment
Many online publishers in Finland have asked me who'd be the best partner for selling their ad inventory. It's a crucial question. The right media sales partner can multiply the value of your ad space, and help you in developing an offering that adds value to both the big brand advertisers and your audience.
Here's a list of the most prominent independent players in Finland. N.B. the descriptions are my opinions, not the companies' official statements.

Verkossa Media are the biggest with their ~50 publishers, including sites like Rantapallo, Afterdawn, and Kotikokki. In the past, Verkossa Media have done a great job in direct, site-specific campaign sales. They have changed in the past year or two, and it seems their focus is transferring from site-specific campaigns to their ad network. Usually this means more bulk, less tailoring (and thus less added value). On the other hand, for small sites it may be good to be part of a packet in order to appeal to advertisers. Verkossa Media's revenue in the latest fiscal year was 7,5 MEUR.

White Rabbit have a history of representing "youth/street culture" publishers. They've been working with many pop, music and indie sites, and represented Spotify when it was all new and just started in Finland. Now White Rabbit's media list includes sites like Findance, GrooveFM, Kuvake.net and Stardoll. White Rabbit is forward-looking and is among the forerunners in utilizing Rich Media formats. From my point of view seems that they'd benefit from having a more coherent set of bigger publishers. White Rabbit's revenue in 2010 was 1,6 MEUR.
Klikkicom are an all-round digital marketing implementation house. A few years ago, around 2006, Klikkicom did media sales for many publishers and had a strong vertical in e.g. sports. Since then they've expanded to SEO and SEM, along with analytics and various social media promotion products. The expansion caused a shift in focus and their performance as a media sales partner suffered – at least for new sites. This may be changing, though: Klikkicom were VC-backed and was acquired by Edita this year. In 2011, Klikkicom's revenue was 6,9 MEUR.

Saarsalo is a smaller, fresh player from Tampere with a background in printed media. Saarsalo's largest accounts are Otavamedia's brands (e.g. Suomen Kuvalehti, NettiX) and A-lehdet (including Apu and Urheilulehti). While it's early to say much about their performance in online space, I've been told they're on the right track. Saarsalo's revenue in 2011 was 0,36 MEUR.

Diamonds and Pearls is the latest addition to the list. D&P were founded in August 2012 by Sami Kelkka, a long-time CEO of Verkossa Media. D&P say their strategy is to pick only a handful of publishers and work in close partnership with each. The target is to create branded publishers and media products that help both in expanding your audience and attracting advertisers. Interesting approach! D&P's media list includes sites like Hellapoliisi and Iltapulu.
********
Selecting the best partner for your media is an important decision. Definition of the "best" of course depends on multiple factors that are different in each case, so take out your PEST and SWOT diagrams and see where the strategy ladder ends up.

At Nimenhuuto.com we selected White Rabbit.
btw, the revenue numbers are not directly comparable. Some companies on the list report only their commission while others report the full value and then pay publisher's share later, etc.
btw2, please feel free to post a comment if you think there's someone worth mentioning missing from the list.
Posted by Jussi Huotari in : business , add a comment
Google's new privacy policy kicks in on March 1st. According to their announcement, the new policy makes possible for Google to integrate their different products more closely.
So, instead of having a separate privacy policy for Youtube, Calendar, Gmail, Search, Analytics, Picasa, Docs, Adwords, etc etc there will be one account and one policy covering (almost) all Google products.
On Feb 22nd, the Electronic Frontier Foundation announced that "EFF isn't happy with Google's plan to expand its use of the information it gleans about you". Helsingin Sanomat (the biggest newspaper in Finland) picked the story today and strongly suggests that you erase your Google web history now.
Eh. Why?
I don't see how this policy change affects the well-known fact that if you choose to use Google's free products, you agree that Google gathers data about you and uses these data to further develop the products, to provide a better user experience, and – yes – to serve accurately targeted ads.
However, having so many Facebook friends point out this story made me curious.
First, I went to see my personal web history at https://www.google.com/history. The list of my past searches sure is extensive, totaling to 24k searches or, on average, 13 Google searches every day for the past 5+ years.

Second, I Googled (irony?) to find out more. The first link explained the issue
As I understand it, Google is changing it's privacy policy so that my personal search history (which was previously kept separate), will now be tied to my Google profile for other Google products (Google+, Gmail, Google Voice, etc.). In other words – my search history will now be associated with my actual name and personal phone number.
Ok, I can see why that's an issue for some. Maybe it should be an issue for us all? I am quite happy with having Google point out the links that I've visited in the past and push the interesting (for me) links up on the search results page.
I'm not going to delete my search history. Are you and if yes, I'd love to hear why?
P.S. If you want to save your search history before erasing it, there's a tool for that at Data Liberation Front (that's a Google product, btw)
Posted by Jussi Huotari in : business,startup,web2 , add a comment
I've become a fan of cohort analysis! Cohorts provide a great way to focus on product development and the effect our RnD is having on customers. Cohort analysis tells us if we're making the product better or just adding clutter and obsolete features.
Often it would be the best to "simply" focus on the existing features and make them even better. And as often, in my experience, we tend to consider the existing features done and want to make new exciting stuff that the customers are bound to adore and enjoy.
Eric Ries puts this well in the context of web startups on Techcrunch:
Most product teams don't know if they are making their product better or worse; that's why customers feel a twinge of fear every time they have to update or upgrade. Despite this, those same companies may be having extremely fast growth because even though the product is getting worse, other things are going right: network effects are kicking in, the company is being lauded in the press, or they are surfing on a general wave of growth in their industry.
So instead measuring just the averages, we want to utilize cohort analysis. A "cohort" may be the set of people who signed up during a specific month. For example: Do the people who signed up this month convert to buyers at a higher rate than those who signed up last month? If the conversion rate remains the same, we just wasted a month of RnD effort!
How is this different from measuring the overall conversion rate?
The difference is that using cohorts, you will know which feature or addition got your audience's attention. This is like utilizing A/B testing in product development. And you will be able to track customer life-cycle events. Ash Maurya writes about this in his post 3 Rules to Actionable Metrics in a Lean Startup. By checking the cohort analysis table you can see if the customer retention is going the right direction. Here's an example table by Ash: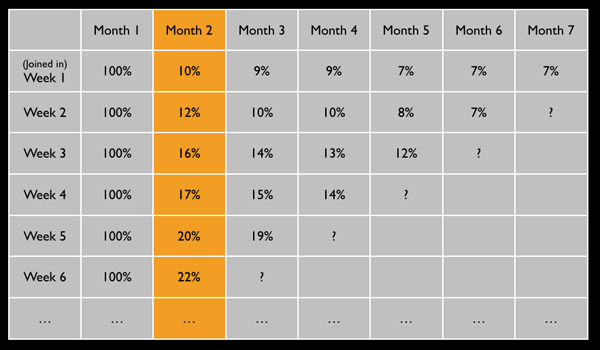 I can't wait to find out our numbers. Lot's of SQL:ing to do…
Posted by Jussi Huotari in : business , 1 comment so far
You'd better send your marketing emails weekly on Saturday mornings. Then it will get the most clicks and least unsubscribes. That is what the statistics tell us.
MailChimp, the email-marketing service, scanned through 10 billion emails as part of their Email Genome Project. Their findings were surprising. Dan Zarrella of HubSpot put together an interesting webinar from the data (see his slides embedded below). In my opinion the main points – or as Dan would probably say: The super-duper-DUPER-important key takeaways are:
Click-through rates spike on weekend. Marketing emails will get more share of mind when people have less work to attend to. Or is it just because very few companies send their messages on weekends, and those who do will get noticed?
The unsubscribe rates are highest on Mon and Tue. Don't send your messages in the beginning of the week! It is the busiest time of week for so many people.
The actual time of day is not that important. But sending email early morning (around 7am) is slightly better than other times.
If you want people to click a link on your email, you'd better have a LOTS of links. More links equals higher overall click through rate. Dan's rationale is that the more links there are, the more ways you have to convince the reader. All of the links may of course point to the same url.
High frequency is not a bad thing. The unsubscribe rate is at highest if you send email only once or twice a month. Sending daily is no worse than sending weekly (in terms of unsubscribe rate). Thus high frequency outweighs any decline in click rates.
Posted by Jussi Huotari in : business,startup,travel , 1 comment so far

Stephen Joyce wrote a great post on how Groupon advertising works. He offers insight into Groupon's impact on sales and profitability from a local small business's perspective. The bottom line is: you're gonna lose!
Groupon is the 2-year-old group buying service that has received a great amount of attention (and a billion $ in venture capital) because of its huge growth. Groupon partners with local businesses, agrees on a heavy discount on the local business's service, and sends a daily coupon by email to the local members.
It is geographically targeted risk-free advertising: the local business pays only if a certain amount of the discount coupons are bought, i.e. there are interested customers. There's no upfront cost.
The customer pays Groupon for the coupon and Groupon splits the revenue with the local business. Let's say there's a 50% discount: a €100 product would be sold for €50 of which the local business gets half, i.e. €25. Now, a 75% discount sounds like a no-go even with healthy profit margins, don't you think?
Groupon has inspired hundreds of clones. In Finland the most prominent is CityDeal that is currently running an overwhelming advertising campaign on Adsense and other ad networks. Today, for example, CityDeal.fi is offering a Spa treatment in Helsinki at a 53% discount. Groupon bought CityDeal last May and will rebrand it and maybe then we'll have Groupon.fi…
Another interesting clone in these parts of the world is the Estonian Cherry.ee. They made a deal with Estonian Air to sell travel vouchers at a 40% discount last December. Their coupons were sold at such a pace that Estonian Air had to stop the deal! The travel voucher's face value was 1000EEK and they sold 6500 of them at 600EEK. If Estonian Air gets 50% of the proceeds, that adds up to 50% x 600EEK x 6500 = 1.950.000EEK, i.e. 4.550.000EEK less revenue than at the retail price. Four and a half a million EEK is about €290.000… Quite a marketing stunt for a small airline.
Posted by Jussi Huotari in : business,web2 , 1 comment so far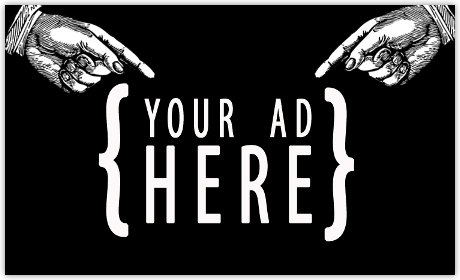 Are the websites relying on display ads doomed to fail? Only 0,1% of banners get clicks. Most people downright ignore banners altogether. Compare this with search-related ads' 35x higher click rate and it becomes obvious why so many online media are resorting to gigantic panorama banners and other desperate measures in order to increase their click rates.
BUT: Measuring the click rate is wrong!
comScore's Gian Fulgoni wrote an interesting post on display ad's efficiency. He refers to comScore's research that followed the purchase process all the way to the actual offline in-store buying. The most interesting points are:
There was 16% lift in sales among people who were exposed to display ads only. Even if the click rate was only 0,1%. Display ads support search ads very well.
There are only a limited number of people searching for a product. Display ads reach much wider audience. Thus the total dollar sales gained from display ads may be much larger than from search ads. According to comScore: the sales volume lift index for search ads is 100 and for display ads 198. Interesting and totally unexpected.
Another comScore research done in Europe reveals that Internet users exposed to a banner campaign are 94% more likely to conduct a trademark search on the advertiser's brand.
comScore's numbers sound reliable. Display ads seem to be much more efficient than I thought. Combine this with personalization and targeting (as in TripSay) and you'll get a money-making machine like TripAdvisor.

Posted by Jussi Huotari in : business,travel , 1 comment so far

Tripadvisor really knows how to monetize travel. And according to a post on Techcrunch: "It's more or less the worst experience in the world for an end user."
The worst end user experience somehow generates spectacular growth: Tripadvisor's revenue for Q3/2010 grew by 40% from 2009 (.pdf). It means their revenue for 2010 will be around $495 million with margins "well north of 50%".
$250 million yearly profit!? And what does it mean to the 40 million unique monthly visitors? According to TC:
You're greeted at the top by a banner ad. Below that, you get 10 sponsored links. To the right of that, affiliate links. Below that, hundreds more affiliate links. And more banner ads. There is not a single piece of actual content on this page. It's one giant ad. And there are 76 pages of this.
Right.

Here's their page that is the 1st hit on Google: Paris Vacation. In all fairness: it's not Tripadvisor's main page for Paris. The main page is better, but I still prefer Tripsay's version of showing information about Paris, France.
Posted by Jussi Huotari in : business,travel , add a comment
Russia is big in social media. According to Natalya Koroleva from Редкая марка (a marketing agency in Moscow):
Russia ranks first in the world in social networks involvement
Huh? 1st? Don't know if that can be true. But after Natalya's presentation I'm convinced that the russian Internet or Runet is worth a closer look. It's a parallel universe with its own Facebook, LinkedIn and Youtube clones (Vkontakte.ru, Moikrug.ru and Rutube.ru, respectively). The localized versions are typically much more attractive for the 50M russian Internet users than their western counterparts. приятно познокомиться!
In general, the rules for marketing and PR sounded the same than what we've learned in the States and Canada: Be personal and interesting, and that achieving results require long term planning. Nothing new.
Natalya showed us some interesting travel PR cases. My favorites were the Insipired by Iceland campaign because the video soundtrack is by Emiliana Torrini, and the Keep Exploring campaign by Canadian Tourism Commission. The Keep Exploring campaign launched interactive "Twitter Walls" displaying tweets about Canada travel. Looks interesting.